Bathroom Accessories for the Glamour Bath
22.06.2014
Creating a glamorous look for your bath decor with all the bathroom accessories imaginable can be a fun and exhilarating experience... especially when you have plenty of room and money to work with. The glamour bath can really be anything you want it to be. You can imagine in your mind the ideal bath with all the frills to make it comfortable and inviting for everyone that enters.
Let's explore some creative ways to make your new glamour bath appealing with luxurious accessories.
Glamour Bath Design Concepts
With a new bathroom or bath remodeling, you can start from scratch and develop a plan to make the bath glamorous. Consider the space available and how the tub or shower, vanity sink, and accessories will look once it all comes together.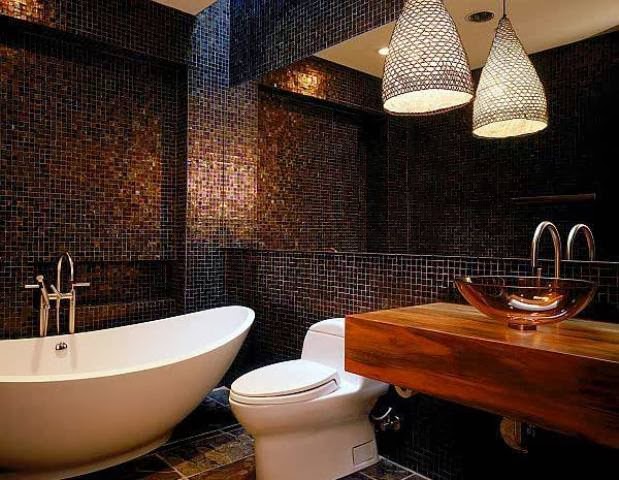 You can use modern or simple structures to get a polished look, or choose more richly detailed fixtures for a fancier style. The polished look can be accomplished with smooth surfaces, colors, and lines along with a built-in granite stone vanity with a flat mirror (with no frame). Colors of cream, black and white, or dark royal colors such as emerald green, burgundy, or dark purple are always charming.
Add an antique bathroom vanity made of wood or wrought iron for a more elegant style and soft colors to offset the vanity. If you have plenty of space, add a built-in banquette seat with a fancy pillow or built-in cabinets. Many glamour baths include a gas log fireplace for bathing during those cold wintry evenings.
Don't make the costly mistake of creating a bath that can go with only one theme. You might desire to change your bathroom theme and colors occasionally. You'll want to design your bathroom so this can easily be accomplished by changing out a few bathroom accessories without remodeling the room entirely.
Types of Accessories for Your Bath
Accessories can either be themed or carry no particular theme. Consider the colors you'd like to emphasize. Do you want warm, soothing colors or bright, cheerful colors? There are dozens of choices to help you achieve the glamour look that fits your style. Colors to consider are purple or violet, vanilla cream, cinnamon, bright red, emerald green, tan, white, or lighter shades of blue, pink, or yellow.
Some of the bath accessories to consider for a more elegant appearance include stone or wooden vases with green plants, fancy wall sconces, chrome towel racks, a couple of wall paintings, and all the usual items to match your colors such as tissue and soap holders, a toilet paper holder, a toothbrush holder, a towel warmer, a soap dispenser, a waste basket, and a useful caddy. You can also use decorative baskets to store small items or soaps.
Create a sweet fragrance in your glamour bath using candles scented with strawberry, peppermint, cinnamon, or floral fragrances. Add luxury bath towels and wash cloths, a plush floor mat, and a richly textured fabric shower curtain to complete your decor. Also, purchase seasonal bathroom accessories for the holidays or for any change of the seasons. You'll never be bored with your bath decorations!
Shop for Bath Decor Products
A glamour bath isn't complete without all the well-crafted accessories. You can find a select mixture of themed bath decor products or elegant bath items with no particular theme. Visualize how you would like to decorate your bath. What will you hang on the walls? What type of bath lighting do you prefer? What will go on the vanity counters or on the floors?
Choose accessories of superior quality, but don't be afraid to look around at garage sales and thrift shops for bargains. Sometimes you can find gorgeous antiques for a fraction of the cost. Also, check out online bath accessory stores. These usually offer hundreds of bath products, and often at very economical prices. It's also very time-saving to shop online.
Before shopping, create a wish list of all the items you'd like to add to your bathroom so you can shop all at once and receive bargains on shipping as well. Your glamour bath will come together quickly with pleasing results once you have all the bathroom accessories in place.
Written by: candicep